Australia's rich tradition of Jazz composition has finally been chronicled in the first ever Australian
It was a mammoth undertaking and quite a political process. Waleed Aly spoke to jazz musician and author of the Australian Jazz Real Book, Tim Nikolsky. Bob Sedergreen also came in for a chat and the trio punched out a version of Bob's 'Intersection'.
Producer: Barbara Heggen
Audio: Chris Thompson
Cameras and Editing: Paul J Penton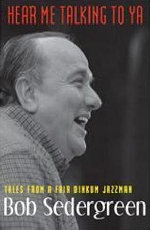 Many books have been written about Australian Jazz from the outside looking in, but this book is written from the inside and is a revealing and rewarding experience, from the heart and soul of an important figure in the history of Australian Jazz.
Bob Sedergreen's impact and influence in performance, composition and eduation has secured his place as a national treasure. To play with Bob Sedergreen has been described as the 'ultimate armchair ride.' To hear him is always exciting and satisfying. "Reading Hear Me Talking To Ya is like sitting next to Bob on a bar stool hearing a lifetime of jazz stories..."
You can also purchase through Identity Promotions PO Box 2384, Kew 3101 $20 plus postage, or at any of Bob's gigs - or just go to your favourite bookstore and purchase it. Contact Rae Sedergreen for further information.
Paul Williamson begins his set as part of a humble trio with Tim Neal on Hammond and Mike Jordan on drums. Jeff Lang strolls to the stage to add some tasteful slide guitar to 'Spoonful'. Musicians in attendance chuckle as drummer Mike Jordan dares to ask for more sax in his monitor. The amiable Bob Sedergreen emerges to stamp his authority on the band with his understated but perfectly chosen notes. Trumpet player Ross Irwin follows, then Dave Palmer on trombone and we're now at a seven piece big band, as they smoke up the stage like a pack of Chicago gangsters. Special guest Renee Geyer arrives to join the fun and kicks into a couple of blues jams including 'Baby Please Don't Go'.
After incrementally building to such a big band powerhouse, it's a nice touch that Williamson chooses to set aside time near the end for just he and Bob Sedergreen, giving the great piano man a much deserved nod of recognition.
Over an eleven day period, I'd seen a lot of jazz, a lot of great jazz. I missed a lot too, such is the extent of the festival's program. For my final fling I choose the more obscure, a jazz soiree at the Duldig Studio featuring the Janet Arndt Quartet. This gig is as intimate as it gets, seated tightly, surrounded by the studio's current art exhibition Art Behind The Wire. Arndt and her well-travelled band run through a list of jazz vocal standards, appreciated greatly by the audience made up largely of friends to the studio. This is the other end of the jazz spectrum, those who have already lived a long, rich, jazz life. At Stonnington this year, I also saw the future of Australian jazz and I have to say it's looking very bright.
GREG PHILLIPS
Paul Williamson's Hammond Jazz Combo, teaming the saxophonist-singer with Tim Neal (Hammond organ) and Mike Jordan (drums, vocals), has become a fixture at Stonnington Jazz. It is always a hoot. Paul loves to surprise with guest players on the night. This time we knew from the program that the combo would be joined by Bob Sedergreen (piano), Ross Irwin (trumpet) and Dave Palmer (trombone), but it was a huge thrill to see Jeff Lang appear for the fourth song and later Renee Geyer entering into the antics.
The taste of Lang's slide guitar was not enough for me. I could have listened all night to Sedergreen's swinging notes. And Tim Neal on the Hammond can send out vibrations that are sensational in bodily sense.
There were serious moments — Let The Good Times Roll was played as a tribute to the recently departed Gil Askey — but this gig had its usual party feel, with some delicious brassy farts and lots of horns either going ballistic or delighting in their united power.
If you've never been to this jazz party, make sure to come next year.
ROGER MITCHELL
Bob Sedergreen's first gig was in a rock and roll band at the Sandringham lifesaving club in 1950. In the years that followed, the Kew resident shared the international stage with jazz greats to the tune of Dizzy Gillespie, Milt Jackson and Nat Adderley, gaining him a world of experience.
Now he's coming back to where it all began with a performance at the Stonnington Jazz Festival on Wednesday, May 21. The festival, now in its ninth year, brings together Australian artists, based here and overseas, to provide memorable performances for local jazz lovers.
Sedergreen's love of jazz comes from performing, where he has a chance to interact with the audience.
"You play in smoky jazz clubs with like 90 people and you can see if they're digging it, it's you communicating with people and them communicating with you, so it's a beautiful thing," he said.
This year he plans to bring something a bit different to the festival. "Well because it's a jazz festival it's a special occasion and people are looking for something different," he said.
"So we'll be playing a whole spectrum of compositions of piano pieces starting in the 1930s through to modern ones, but played on different instruments. We also have lots of guests who have their own versions."
One of these guests is The Stonnington Jazz Initiative, a community program Sedergreen helped to create that is open to kids who live or go to school in the Stonnington area.
Sedergreen is a former lecturer at the Victorian College of the Arts and he tries to create an experience for the kids they wouldn't receive in school. "In most schools they play in stage bands – that's the only experience they get. It's more swing and it doesn't tell them about jazz," he said.
"So what we do is we throw the music away, throw the stands away and I say 'Listen, we're just going to play our butts off and have a good time'. That's how I learnt and so we give them the freedom that I had."
His support of local music festivals comes back to a love of performing live.
"Back in the old days, people wanted to go out, not stay at home. Now people listen to music with earphones but it isn't in real time so you can't feel it, you can only hear it. But with live music you can feel it, see it, smell it – you become a part of the experience," he said.
"When you do want to see something live it's usually big commercial things where you have to go to these huge stadiums with thousands of people but with jazz, it's a personal experience."
Stonnington Jazz Festival closed on Sunday, May 25.
Bob Sedergreen
"This month's blog post is about an incredible musician who has significantly contributed to Australian jazz for decades. He is an Australian jazz legend - Bob Sedergreen.
I was lucky enough to be taken under his wing over 8 years ago. This blog is about our experiences together, Bob's approach as a mentor and renowed Australian (and American) jazz musicians we have encountered along the way.
"'Mo Life' is all about what influences me with my art and music. Sometimes (if I'm lucky) things I learn and am influenced by go much, much deeper than expected. A major influence on my life and music is Australian jazz legend,

Bob Sedergreen

, a generous teacher turned good friend.
Any working jazz musician in Australia knows who he is and knows what he has done.

His impact and influence in performance, composition and education for over half a century has secured his place as a national treasure."
MONIQUE SESTO
...on Bob Sedergreen
BOURBON STREET TO BRUNSWICK STREET
CD Launch - October 2015
As Australian musicians, New Orleans occupies a special place in our hearts, as a mythical faraway wonderland, the birthplace of jazz.
For over three years Bob and I have been paying tribute to the energy and intensity of the Crescent City sounds, which began its journey in Africa and the Caribbean, and now can be found all over the world, from Frankfurt to Frankston.
There aren't too many piano players who know more about the history of jazz than Bob Sedergreen (he's been doing it for over half a century!), and it's been an absolute honour to 'have a hit' with him onstage - as generations collide!
We like to keep Bourbon St to Brunswick St very spontaneous, and though we may choose a lot of repertoire associated with New Orleans style jazz, we're always speaking in our own voices.
We hope you enjoy our inaugural release, where we've tried to capture the urgency, wit, elegance and grit of this music we like to call…
Well, call it anything you like. We sure had fun playing it.
— Adam Rudegeair 2015
STONNINGTON JAZZ 2014
Paul Williamson Hammond Jazz Party
"INTERSECTION" -
Bob Sedergreen, Tim Nikolsky ... and Waleed Aly
"HEAR ME TALKING TO YA" -
Bob's Book
On the 29th November 2015, Bob was the CommBank's nominated "Australian of The Day"
Visit the
website
to read his profile.