With Bob Sedergreen, Doug De Vries and Friends
Venue: Claypots
2014
Bob Sedergreen

BOURBON STREET TO BRUNSWICK STREET - CD Launch
R.I.P. RUBY CARTER 11/12/14
Bob and Adam Rudegair launch their CD celebrating the intensity and spirit of New Orleans!
Saturday 24th October at the Paris Cat (see gig guide for more details) Read more
here
.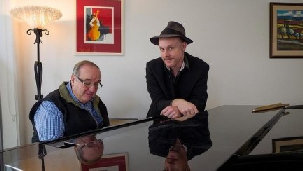 Bob Sedergreen's high regard and position in Australian music is unquestionable. His impact and influence in performance, composition and education for over half a century has secured his place as a national treasure. Bob was won the respect and admiration of recognised talents both in Australia and internationally. People like Jimmy Witherspoon, Nat Adderley and Phil Woods, to name but a few. Australian artists include: Brian Brown OA, Allan Browne OA, Don Burrows OA, Ted Vining and Judy Jacques. Bob has also appeared in concert with all-time greats like Dizzy Gillespie and Milt Jackson.
Bob's musical abilities find him leading and working with a plethora of diverse ensembles and groups. From the traditional to the most contemporary, he infuses the music with authority of style, creative expression and wit, in a manner that is never arrogant or condescending. He has recorded many dozens of albums and over 32 CDs.
Bob has toured extensively both here and overseas including Jazz Festivals in Montreal, Malaysia and Scandinavia. He was Artistic Director of the Montsalvat International Jazz Festival 1993-4 and involved in negotiating performances by American working ensembles including the Nat Adderley Quintet and The McCoy Tyner Trio.
In 1990 Bob won the Inaugural Jazz Award for Australia's Best Keyboardist. He has been described by colleague Dr Tony Gould as the world's best Blues pianist.
To play with Bob Sedergreen has been described as the "ultimate armchair ride". "To hear him is always exciting and satisfying" - Adrian Jackson, The Age.
In 2007 Bob released his book "Hear Me Talking to Ya". A book worthy of mention by "Linkedins Jazz Group" March 2012, an authority on jazz publications worldwide. Read more ....
BOB SEDERGREEN and ADAM RUDEGAIR
ON BOURBON ST to BRUNWICK ST
""What Bob and I see is the true spirit of jazz, which is communicating and having fun", says Rudegair." Fiona Capp, The Age, July 17, 2015
Pamela Burnard
Professor at University of Cambridge – Reader in Music Education

"When I think of my 'music teachers' I also think of 'music educators' which include music performers, improvisers, composers, academics plus others in the music (and creative/cultural) industries. I think of these people as those who taught by sharing with me powerful norms, values, and capitals. These translate into other forms of capital that link my childhood to my present and ongoing music education.

The list of people is too long to include all names but here are some that come to mind: Joanna MacGregor, Nina Simone, Miles Davis, Johann Sebastian Bach, Stevie Wonder, Judy Hall, Ronald Farren-Price, Alfonso Montecino, Claudia Arrau, Jacque Brel, Bob Sedergreen, Graeme Bartle, Nora Morrisroe, Joni Mitchell, Ros McMillan, Lucy Green...plus a multiplicity of others who made a massive difference and KEEP making a difference either in a direction that reinforces or transforms me and my career, at the level of expectations and aspirations.

My life is a living enquiry inspired by new ways of seeing, creating, performing, listening, thinking about, relating, participating, researching and engaging with musicians and their diverse creativities."

BOB at CAFE ROYAL,
London July 2015
Click on the image to hear Bob's impromptu performance at the Cafe Royal, London, July 2015

1970 Melbourne saw the formation of what became arguably the longest serving Jazz group in this country, if not the world – The Ted Vining Trio.
The death of bass player Barry Buckley in 2006 brought to a close a remarkable musical relationship lasting an incredible 36 years !
The Trio performed at Clubs and Festivals all over Australia, and as the rhythm section for the iconic Brian Brown Quartet, successfully touring the much lauded Scandinavian Jazz Festivals during 1978 for Australian Foreign Affairs – a first for an Australian Jazz group.
Ted Vining and Bob Sedergreen are still together after 47 years of music making, with current bass player Gareth Hill, however, for this Cygnet performance on Saturday February 25th, the bass chair will be occupied by now local resident Derek Capewell. Derek has performed on many occasions over the years with both Ted and Bob, in a variety of settings.
Saturday February 25th – 2 x 45 minute sets commencing at 8.00 pm. Admission $15.00 – Food and Refreshments available. See gig guide for more details.
JAZZ GREATS AT THE RED VELVET LOUNGE - Cygnet, Tasmania